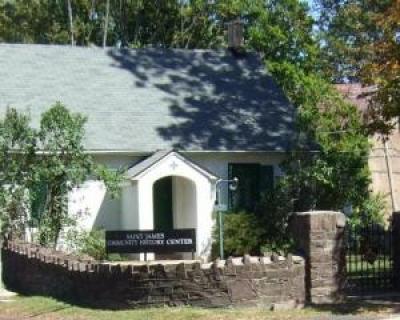 The St. James' Community History Center was created to preserve and recover the history of St. James, Evansburg and its surrounding environs. The center is dedicated to the preservation of artifacts and documents and the conversion of historical documents to an appropriate electronic format to ensure their preservation and facilitate access through the use of electronic databases. Housed in the former SPG Schoolhouse the center provides space for display of permanent and loaned artifacts. In 2005 the center partnered with the Lower Providence Historical Society to present a day of Living History in celebration of the bicentennial of Lower Providence Township.
At the present time the History Center Committee is in the midst of a long- range project to survey and catalog the entire St. James' Cemetery. The survey of the old section of St. James' cemetery was completed Fall of 2009 and is available through the Genealogy link in the Resources section of this site. We continue to work on the new section of the cemetery and hope to complete this work in the near future. The Center is open to the public for special events such as the bicentennial celebration of Lower Providence Township and various church sponsored events that highlight the history of St. James' Church. Group tours and individual access to documents for historical research are available by appointment at history@stjames-episcopal.org. or by calling the church office at 610-489-7564.
Click here for links to online genealogy information.
Click here for link to History of St. James' Church
Additional views of St. James' Community History Center below