Green Phase (with restrictions) Worship at St. James'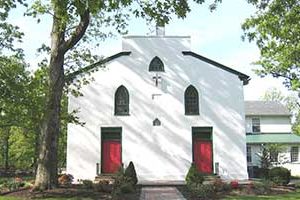 St. James' is pleased to offer in-person services along with our virtual presence on YouTube!
Virtual Worship
For those who prefer to stay home and watch our service online the worship service will continue to be taped with select choir members and offer music throughout the service.  This service will continue to be premiered on Sundays at 10 AM on our YouTube Channel and the link for the service and the coordinating Bulletin will continue to be distributed through our Happenings emails on Wednesdays.   Please note that the Bulletin (with the red header) that is sent with the YouTube link is for the virtual service only.   In addition, Eucharist will continue to be offered from 11:30 AM to 12:30 PM every Sunday for those that wish to participate in the Virtual Worship Service during the premiere. Please see our YouTube page here.
Procedures for in-person Worship during the Green Phase with Restrictions
St. James' is offering in-person services during our regular worship times: Saturdays at 5 PM and Sundays at both 8 AM and 10 AM. These services, however, will look a little different at this time. These will be spoken services only. We ask that if you choose to attend an in-person service that you adhere to the following procedures:
All attendees are required to wear a face covering.
All parishioners are asked to walk into the building using the sidewalk nearest to the playground and enter through the left doors only.
We ask that all foot traffic flow in a clockwise direction.  If you will be sitting on the right side of the church, we ask that you enter through the left doors and walk towards the Altar and then down the right side to your seat.
We ask that this direction be maintained for entering/exiting the building and for Eucharist.
All open pews have been numbered and will be invited to Eucharist and dismissed using the pew numbers.
We have closed pews to maintain social distancing.  Please do not enter a pew that has been closed.
We ask that only one family sit in a pew.  If you are a single/double occupancy, we ask that you fill in the outside pews first and if you are three or more occupancy that you fill in the center pews first.
As the weather changes and coats, umbrellas, etc. are needed, please bring these items with you to your pew and remove them with you upon dismissal.
All books, pew cards, pencils, sheep bags, and kneelers have been removed to prevent additional surfaces being exposed.   Should you need to make a prayer request please continue to email the names to
The Bulletin for the in-person services will be printed with a Blue header and will also be made available on Wednesdays in Happenings as a pdf file.   We encourage families to bring iPads, laptops and smartphones to follow along with the service digitally.
Should a paper copy of the Bulletin be needed, these will be available, but we ask that you try to limit it to one copy per family if possible. Please remember that if you take a paper copy you must also dispose of it following the service.  There will be a recycle bin near the exit for your convenience.
During the peace, we ask that you remain in your pew and simply offer a bow to those around you.
At the Eucharist, Fr. Mike will call up one pew at a time.  Please remember to go in a clockwise direction. If you are seated on the right side, please go towards the back, and come to the Altar from the left side. You will be given the host and are asked to return to your seat with your mask still on and take the host once seated.
Upon dismissal, Fr. Mike will again call on a pew at a time. Please continue to walk in a clockwise motion and exit through the right side and use the walkway closest to Evansburg Road to return to your car.
While we are in a restrictive phase, we unfortunately can not offer nursery services, in-person church school, coffee hour or any other gatherings on site.  We anxiously await when we can once again host a Foyer, a Chicken Barbecue, listen to the choir sing an anthem in person and so much more, but please know we are still a strong community and if you need anything, St. James' is here for you.