The Music Program at St. James' offers a variety of ensembles that serve God and the community. The Adult Choir, All Parish Choir, and Junior Choir present regular musical offerings to enhance the worship service and provide spiritual nourishment to its members and the congregation.
All Parish Choir
All Ages!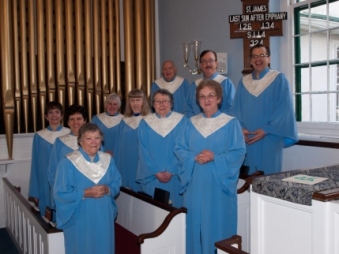 The All Parish Choir rehearses on select Sunday mornings at 9:15am. The choir focuses on music that is accessible to all, seeking to provide a worship experience in both rehearsal and performance. All Parish Choir members are not required to process (put on a robe and sit in the choir pews) but can elect to come from the congregation when it is time to present an anthem. As such, this choir is ideal for parents with young families and those who prefer to remain in the congregation for worship.
Adult Choir
9th Grade - Adult
The Adult Choir rehearses on Thursday evenings from 7:30 - 9:00pm. The choir performs music that is more difficult in nature, including cantatas and larger works. Prior experience in a choral ensemble is encouraged, but not required. The Adult Choir forms the core group of singers that processes during worship (wears a robe and sits in the choir loft), as well as being automatic members of the All Parish Choir.
Lauren Exley
Music Director and Organist
Lauren Exley graduated in 2012 from Westminster Choir College with a Bachelor's of Music in Music Education. While at Westminster, she had the opportunity to sing under Maestros Yannick Nezet-Seguin, Jacques Lacombe, and Daniel Harding. She studied piano under Phyllis Lehrer.
After college, she accepted a position as the Music Director for the Wyndcroft School in Pottstown, PA. While at Wyndcroft, Lauren taught EC - 8th Grade general music classes, directed numerous plays, and led a variety of ensembles. After working in a school setting for 6 years, she was called to a new ministry and left the classroom.
Lauren is now full-time at St. James', sharing the love of education and music with all she encounters. In addition to leading the music program, she is the Education Director. Her energy and passion are evident in everything she does. She looks forward to seeing you in rehearsal!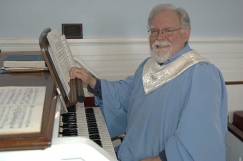 Ronald M. Davis
Organist Emeritus
M.A., University of Pennsylvania
Organist, United Methodist Church, Havre de Grace, Maryland 1962-1987
Chancel Choir Director/Organist, St. James Episcopal Church, 1988-2018
Mr. Davis' extensive vocal experience includes work with the Harford Choral Society, Harford Theatre (contemporary English language opera), Mendelssohn Club of Philadelphia, Choral Arts Society of Philadelphia, Mary Green Singers, and chorus work with Curtis Opera Theatre and Academy of Vocal Arts. As a result of numerous Choral Tours he has traveled throughout the United States, eastern and western Europe and the Middle East.
Mr. Davis is also a composer whose work on occasion finds its way into St. James' worship services.
The following are among the many original Davis' compositions used at St. James':
Epiphany Carol of St. James' * Three Unison Psalms * Meditation for Organ
Lyrical Piece for Organ * St. James' Suite * Anthem of Praise in an Older Style