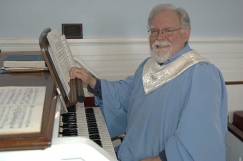 Ronald M. Davis
Organist and Choir Master
M.A., University of Pennsylvania
Organist, United Methodist Church, Havre de Grace, Maryland 1962-1987
Chancel Choir Director/Organist, St. James Episcopal Church, 1988-present
Mr. Davis' extensive vocal experience includes work with the Harford Choral Society, Harford Theatre (contemporary English language opera), Mendelssohn Club of Philadelphia, Choral Arts Society of Philadelphia, Mary Green Singers, and chorus work with Curtis Opera Theatre and Academy of Vocal Arts. As a result of numerous Choral Tours he has traveled throughout the United States, eastern and western Europe and the Middle East.
Mr. Davis is also a composer whose work on occasion finds its way into St. James' worship services.
The following are among the many original Davis' compositions used at St. James':
Epiphany Carol of St. James' * Three Unison Psalms * Meditation for Organ
Lyrical Piece for Organ * St. James' Suite * Anthem of Praise in an Older Style
St. James' Chancel Choir
St. James Chancel Choir performs at the 10:00 a.m. worship service, with special anthems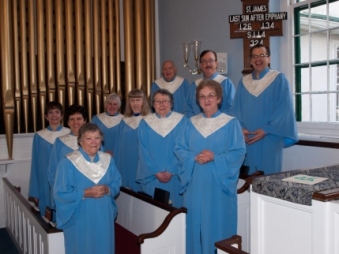 on the 1st and 3rd Sundays of the month, and other designated services throughout the year. The choir, an all-volunteer ensemble, consists of adults of all ages and welcomes anyone with a desire to sing. Choral repertoire ranges from old masters through contemporary anthems. Opportunities exist for solo performances, especially during July and August when the choir is not active.
Choir rehearsals are on Thursday evenings at 7:30 p.m. beginning the Thursday after Labor Day and continuing through the month of June.
Jr. Choir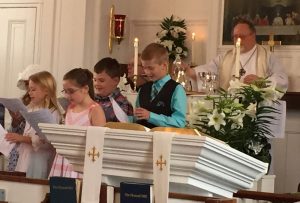 The Junior Choir is made up of youth in Kindergarten through 8th grade. The choir meets following the 10am service on select Sundays and presents an anthem on Christmas Eve (5pm service) and Easter Day. In addition to preparing anthems, the choir focuses on building vocal technique and musicianship. The Junior Choir is an excellent opportunity for youth to serve God and their church community.
Assistant Organist and Jr. Choir Director, Lauren Exley, plays the organ during 8:00 a.m. worship. She is an enthusiastic advocate of children's music at St. James' During the week Lauren is Music Director at the Wyndcroft School in Pottstown PA teaching early childhood through eighth grade.