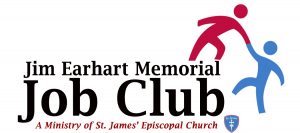 Our mission is to coach and partner with those who are searching for employment as well as those who are employed and seek to change jobs or careers. In a spirit of collaboration, we will build a network which is developing and sharing effective job search techniques, and educational resources to help in the pursuit of employment.
All are welcome!
Please join us if you:
Seek new employment opportunities, whether you are currently unemployed or are employed but anticipate making a transition
Would like to make connections and expand your professional network
Are interested in tapping into a new source of candidates for job opportunities at your organization
Have interest in any of our professional development workshops
Please check our calendar for upcoming meetings and events, or feel free to contact us at jobclub@stjames-episcopal.org.
The Job Club's Beginnings
Jim Earhart was a long time parishioner of St. James'. Jim had a real passion for helping others, and a very kind heart. He was also a doer, so he started the Job Club here at St. James' and helped many people in career transition find new employment. It is in Jim's memory and his giving spirit that the Job Club continues at St. James'.