Classes meet Sundays from 10:00-10:30am. Children begin in church with their families and leave with their teachers after the opening hymn. They return just prior to Communion.
Occasionally, to promote understanding of the worship service, Sunday School students attend the 10am Worship Service. Children sit together with their teachers and practice using the tools of worship. These special days will be called "Kids in Church" Sundays!
Nursery Care (Birth – 3 years)
Child-care is provided from 7:45am-11:15am. Parents can drop-off and pick-up  throughout the 8am and 10am services. The Nursery is located in Platt's Hall.
Primary (Pre-Kindergarten – 1st grade)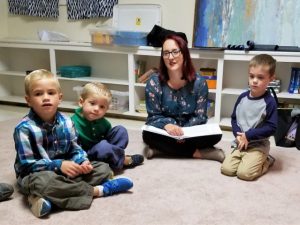 Children engage with biblical stories and Episcopal traditions in a welcoming way. Classes follow a predictable pattern (Gathering, Storytelling, Engaging, and Closing) and are designed to be interactive.
 Elementary (2nd – 5th grade)
Children engage with biblical stories, Episcopal traditions, and the worship service. Building on the foundation set in their primary years, children continue  hearing the great stories of the bible. Children also begin to interact with  materials used in worship (Bible, Book of Common Prayer, and Hymnal) to prepare for their eventual understanding of the Episcopal service.
Middle School (6th – 8th grade)
The Middle School years are about forming the basis for the adult Christian life.  Youth begin connecting their faith to the world around them. Students learn Episcopal Church basics alongside their continuing study of scripture.
High School (9th – 12th grade)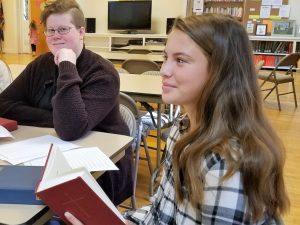 High School students participate in a variety of discussions and programs. The class is designed to transition students from a follower of the church to a leader in the church. Students have the opportunity to be confirmed (a separate course) and become more integrated into the life of the parish. Students are encouraged to join a church ministry (Acolyte, Lector, Altar Guild, Music, etc.)  in addition to coming to classes.
Church School Registration