Classes meet Sundays from 10:00-10:30am. Children begin in church with their families and leave with their teachers after the opening hymn. They return just prior to Communion.
Nursery Care (Birth – 3 years)
*Currently, our nursery is closed to care. The space remains available for families.*
Child-care is provided from 7:45am-11:15am. Parents can drop-off and pick-up  throughout the 8am and 10am services. The Nursery is located in Platt's Hall.
Primary (Pre-Kindergarten – 1st grade)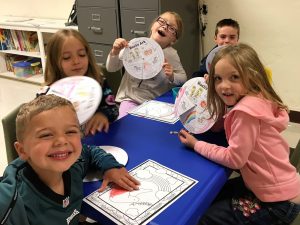 Children explore biblical stories and Episcopal traditions in a welcoming way. Classes follow a predictable pattern (Gathering, Storytelling, Engaging, and Closing) and are designed to be interactive.
Starting in Pre-Kindergarten, children will begin learning responses common to the worship service (Thanks be to God!) and become familiar with hearing Scripture in an age appropriate way. Games, crafts, and songs help young students engage with the material.
Elementary (2nd – 5th grade)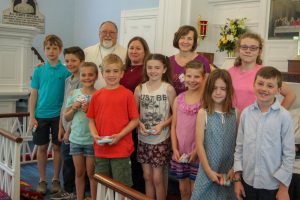 Children engage biblical stories, Episcopal traditions, and the worship service. Building on the foundation set in their primary years, children continue hearing the great stories of the bible. Children interact with the materials used in worship (Bible, Book of Common Prayer, and Hymnal) to prepare for their eventual understanding of the Episcopal service.
Elementary students will build on the concepts learned in their Primary years and will quickly become accustomed to locating and reading Scripture for themselves. Classes begin by reciting an opening statement or prayer, followed by an opportunity for student lectors to read Scripture aloud. A time of discussion and brief activity is always concluded with prayer.
Church School Registration
Registration is required for all Church School students, Pre-K - 12th Grade. Registration is NOT required for adult programs.
As a reminder, registration for Church School is not a substitute for a new member registration form. If you are interested in becoming a member of St. James' Episcopal Church, please email Lisa Reinhardt at for more information!
Given the pandemic, our program will operate in a modified way. For more information, please see the 2020-2021 St. James Church School Plan
If you have any further questions, please email Lauren Exley, the Director of Education, at
Middle School (6th – 8th grade)
The Middle School years are about forming the basis for the adult Christian life. Youth begin connecting their faith to the world around them. Students learn Episcopal Church basics alongside their continuing study of Scripture.
Middle School classes place emphasis on students forming a solid foundation for their future adult Christian life. Each class follows the structure of the Episcopal service, beginning with the daily Collect, followed by Scripture reading, a time of engaging, and a concluding prayer read from the Book of Common Prayer.
High School (9th – 12th grade)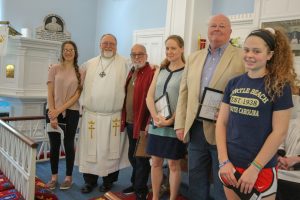 High School students participate in a variety of discussions and programs. The class is designed to transition   students from a follower of the church to a leader in the church. Students have the opportunity to be confirmed (a separate course) and become more integrated in to the life of the parish.
High School classes provide a time for our older youth to discover and debate their faith in a supportive environment. Students will have the opportunity to discuss a variety of topics, from Scripture to the "real-world". The class structure is designed to transition students into their life as an Episcopal adult.
MS and HS students are encouraged to join a church ministry (Acolyte, Altar Guild, Music, etc.) in addition to coming to classes. Altar acolytes, crucifers, and torch bearers can participate in the processional, attend class, and continue serving as usual after returning.